Collision Center Vision
TO PROVIDE THE BEST CUSTOMER SERVICE, BY PRODUCING SAFE AND QUAILTY REPAIRS. ALL WHILE GROWING AS PEOPLE
Our Mission Statement
CRAFTSMANSHIP-RELIABILITY-TEAMWORK-SAFETY-SERVICE & COMMITMENT-QUAILITY GUARANTEE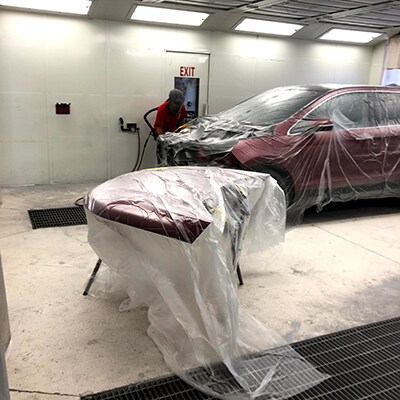 REPAIR PLANING
This is one of the most crucial parts of our process. Our team of I-car trained technicians are here to blueprint and document out the repairs.
As we begin the disassembly of your car, the techs work directly with one of our claim specialists. Our team will track and locate all the damage as well as research all the OEM repair procedures available. This helps us prepare the best repair estimate possible. Then we turn in all our documentation to you and your insurance company for approvals.
The disassembly process:
We take the upmost care of your vehicle by protecting everything we remove. We use special locations to store and protect all the interior pieces as well as any glass we removed. Other parts we remove get organized on a parts cart. The parts that need to be replaced first get matched up to our estimating system, then they will get hung up on a side of the cart. VISUAL KEYS (more on why we do this in the parts column) we also gather everything needed for the repair. Any clips, screws and materials that are needed for the repairs gets accounted for. That way the body techs can work continuously on your vehicle. The less time that our technicians spend gathering materials and looking for clips, the less they are doing what they do best, which is repairing your vehicle.
We mark up the car as we finalize the estimate. This helps ensure that the body techs preform the repair exactly as they have been planned out.
The better we can organize this department, the better it will eliminate delays waiting on parts and approvals from the insurance company.
Things we do in repair planning:
100% disassembly
Team of technicians that only plan out the repairs
Organize carts, parts that are hanging need to be replaced.
Working as a team with each dept to complete a final estimate
Blueprinting of the vehicle
Gather all the clips, screws and bolts that could have broken or are missing. Get as much of the materials as possible so that the body techs can complete their portion of the repairs without stopping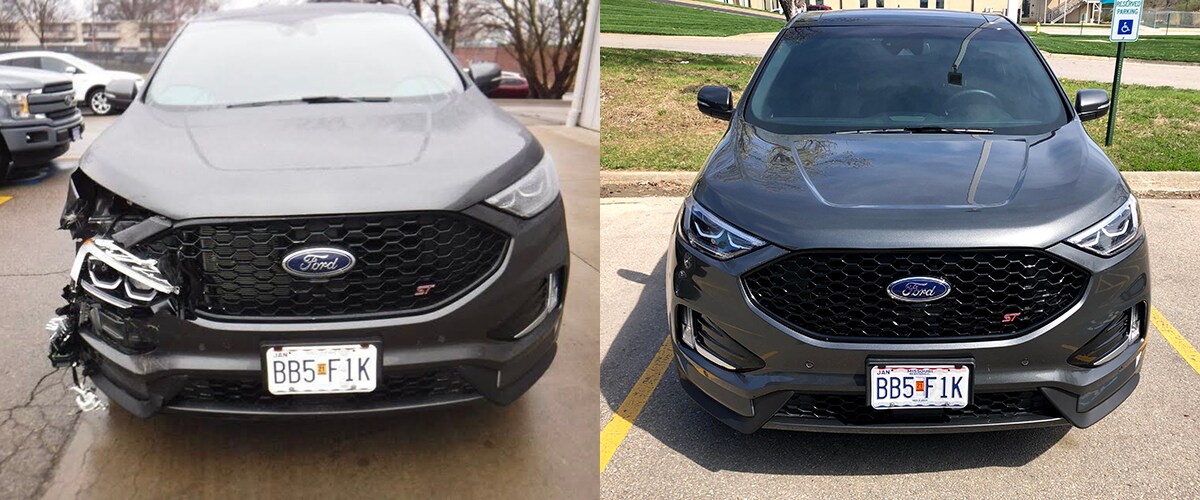 ADMIN ESTIMATORS
We strongly believe that "together is better" our Claim specialist on the admin side Work directly with repair planners and our parts specialist, they work together during the disassembly process so that we can locate all of the damage up front and write the most accurate estimate. We consider any supplement needed after this area as a fail. Supplements take a lot of time and when we can limit each job to 1 estimate or 1 supplement then we reduce the number of delays that are caused throughout the repairs, which in turns produces the fastest cycle times with the best quality of repairs.
In this area we work directly with your insurance company, we pull OEM documentation and find the necessary producers to produce the safest repairs possible. Once we know what all the damage is, and we speak with your insurance company we will call you to inform you of what we find. We can calculate a more accurate completion date at this time. We will also inform you of what the expectations are. If there will be any delays in the repairs. This is the best time to ask any questions that you may have. We have a few things in mind while your vehicle is in this area, safety, quality, speed and flow
Things we do during the admin process:
Follow the path of energy after a collision
Finding all the damage
Dealing with insurance companies and supplements
Approvals and authorizations
Keep the flow throughout the shop
Find the info on what happened in the accident
Helps with parts.  Research the correct parts to add to the estimate
Customer updates
Delivery date adjustments
Specializing on the insurance side of the repair
Research the OEM documentation
Repair planning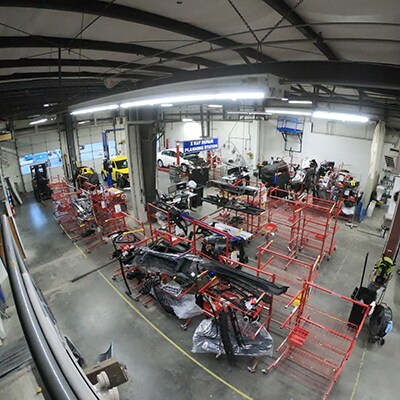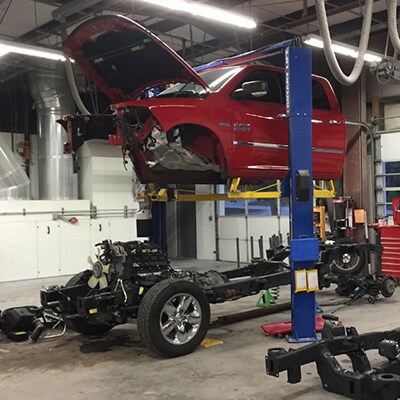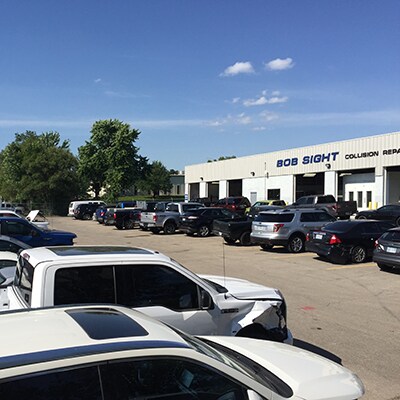 PARTS
Our family of collision parts specialist have one of the most important parts in the collision center. They are responsible for all the parts ordering. From ordering initial parts on scheduled repairs to ordering all the supplemental parts. As well as tracking all the parts after they have been ordered. Once the parts order arrives, we will inspect the parts with the delivery driver to be sure they are damage free. Then we code all of the invoices and enter them all into our management systems. After that we will pull the cart and begin our mirror matching process. After the car gets disassembled all the parts that need replaced are hanging on the cart. This makes it very visual for our parts specialist. We compare the new part to the damaged part to be sure that the part is the correct part we are needing. This is such a big part of our process because wrong parts (just like missed damage) causes us the most delays. After that there should be no parts left hanging on the cart, and the cart as well as the car will then be put into process for repairs.
Our parts specialist is also responsible for overseeing most of the sublet work that we deal with. Arranging pickups and delivery of things like alignments and wheel repairs.
They also oversee our materials. Keeping a big collision center rolling is no easy task. Ordering of all our paint and supplies plus keeping everything organized is an amazing feat by itself. Our material room set-up is a real sight to see!
Things that parts specialist deals with:
Price matching
Chooses the best parts available
Researches OEM documentation
Hardest working dept.
Controls materials needed for repairs
Parts sourcing. Find the best quality parts possible.
Has to price match after market prices to new OEM parts.
Quality control check for used parts
We always recommend OEM parts
Invoicing and coding our internal invoices
BODY TECHNICIANS
Best trained technicians combined with the best materials available will get you the top-notch quality that you deserve. Our team of i-car and ASE certified technicians are responsible for the heavy lifting. Things like filler work, panel replacement, bumper and plastic repairs, air bags and restraint systems, aluminum repairs, and welded on panels, as well as a lot of the mechanical work like suspension and radiators are done in this area. Our body techs specialize in many different areas and working together as a team gives us much better options to be able to produce safe and quality repairs.
Things that the body techs are responsible for.
Filler work
Panel fitment
Teamwork
Heavy hitters
Bumper repairs
Air bag specialists
Aluminum repair station
Welding certified
i-car certified
ASE certified
Air conditioning repairs
Frame repair and replacements
Mechanical work like air bags and suspension
Seat and interior work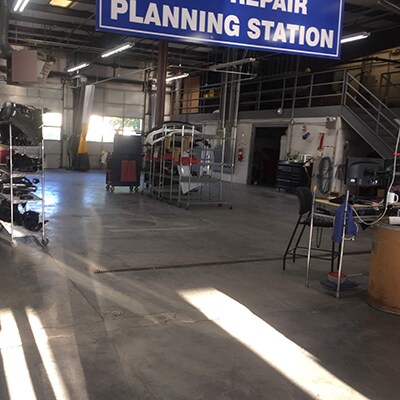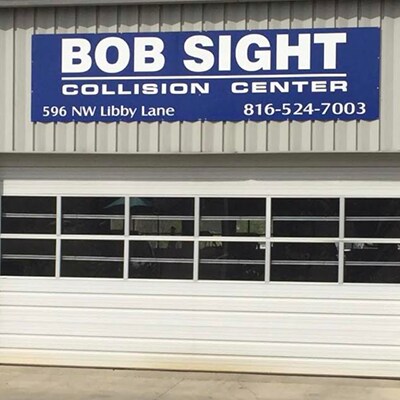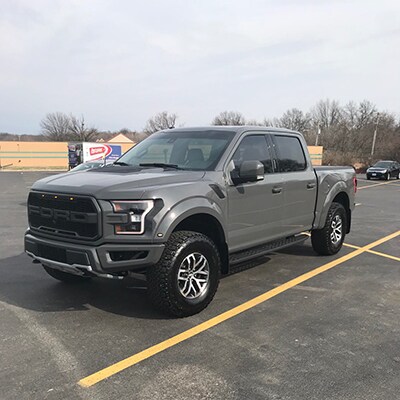 Paint Department
What's the first thing u see when u walk upon a car? The paint jobs.
With the help from Sata & Iwata spray equipment, and PPG paint line. We can produce spot on color matches for that quality finish that you deserve. 3 downdraft Blowtherm paint booths, and a 2 bay prep & primer station by GYS that can all bake the finish on for the faster repairs. All our paint booths go through a rigorous cleaning schedule. Each booth gets cleaned top to bottom once a month.
Our painters work together as a team. By working together, we eliminate a lot of the mindset to rush through each job so we can get onto the next one. We can play to our strengths and help each other.
We also utilize PPG's business solutions for all types of training throughout the shop. From the basics all the way through leadership and management. PPG has training dedicated to every area we work in. A special thanks to Color Vision for supplying us with everything it takes to produce quality repairs. 
Teamwork
PPG paint systems
Iwata amd sata equipment
3 blowtherm downdraft paint booths with baking capabilities
2 bay prep station by GYS with baking capabilities
Fresh air breathing systems in every booth
3m certified
FINAL ASSEMBLY 
This is one of the most important areas. Our I-car and ASE trained reassembly techs are producing the final product from the repairs. We take all the work that has been done by all the other techs and depts and put them together to producer the best product available. We use a 21-point quality control list to be sure everything looks and operates as it should. 
Produces the final product
Biggest qc check
Test drive
Hangs sheet metal like doors after paint
Interior work
Wheel and tire specialists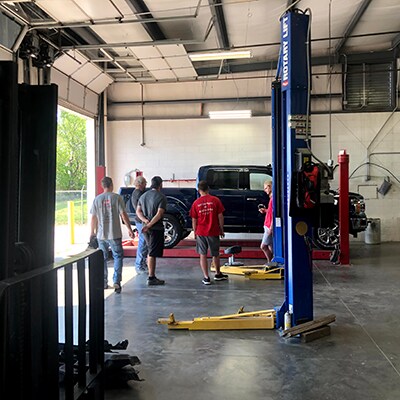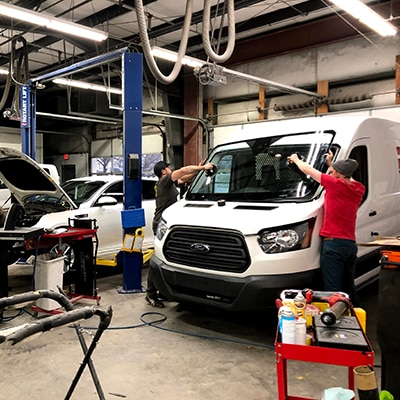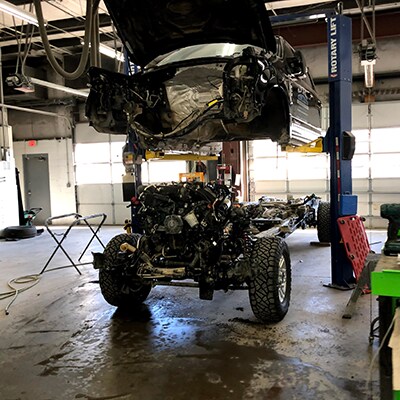 DETAIL
We like to show off our work, which is why the last step in our repair process is to do a final clean up on your car. We take pride in our work and want your car to look like the day it rolled off the assembly line.
We use chemicals from 3m and auto magic. We will vacuum out the inside and clean all the interior panels. We hand wash and chamois off the outside. Then we apply a paint protectant on all freshly painted surfaces. All the while checking for any defects. Our detail professionals are trained to find any overspray or flaw that may have been overlooked throughout the repair process. We also do a prewash on all the vehicles that come into the shop. This helps ensure a quality a job. Everything from being able to see all the damage to keeping dirt and debris out of our paint booth. A clean car from the start means a better repair throughout the entire process.
  Thing that's happen in the detail dept.
Clay bar
Polishing buffing
Vacuuming
Hand wash
Hand dried
Last main QC
Finds any overspray
Tire shine
Super dress it on the dash
Ceramic coats
Protectants
FINAL DELIVERY 
The last step in our process. When the car comes out of detail, we inspect it one last time for imperfections. Once the vehicle clears our QC checklist, we go through the final paperwork and prepare the invoice. When you arrive to pick-up your car one of our claim's specialists will then go over the paperwork with you, collect any deductible or monies owed and we will go over the repairs and inspect the vehicle with you. We can answer any questions you have as well as explain our limited lifetime warranty.
We try to give you a follow-up call about a week or two later to check on the repairs and make sure that everything looks and functions as it should.
We always strive to get perfect 10's and if there is some reason you are not able to do that please reach out to us so we can make It right.
  Things that we do during the final delivery process
Warranty process.
Last visit
Goodbyes
Visit/consultation
Answer any questions you may have
Pick-up/delivery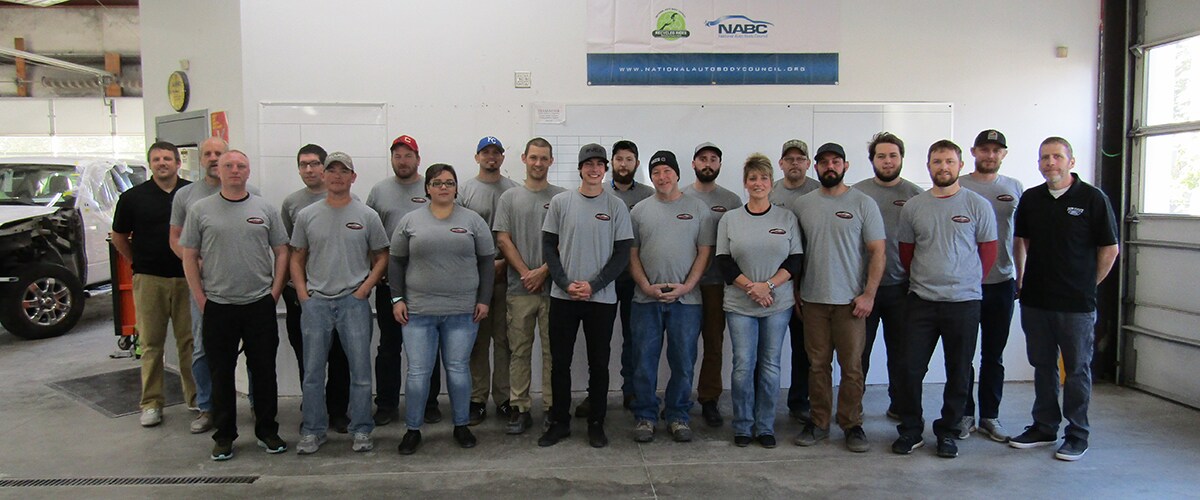 Hours
Monday

8:30am - 6:00pm

Tuesday

8:30am - 6:00pm

Wednesday

8:30am - 6:00pm

Thursday

8:30am - 6:00pm

Friday

8:30am - 6:00pm

Saturday

9:00am - 4:00pm

Sunday

Closed